Food Technology is one in 5 groups of technology sector, specializing in preservation and agricultural products processing; product quality testing and evaluation during foods processing process; researching and developing new products, operating production lines - preserving, creating new materials in foods or pharmaceuticals, chemicals, etc.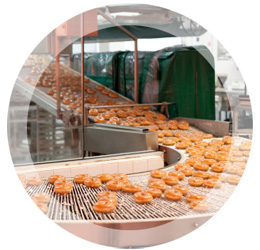 Good and efficient food processing technology system is not only applied by the advanced technology, but also has to be designed and developed as a whole. KIS Science & Technology consultant Co.Ltd. has invested in building a strong team of experts with knowledge, skill, experience and ability to understand customers' professions in different fields. The team's target is consulting services to design and develop the overall solution for the foods processing technology system of clients.
KIS expert team has extensive knowledge in many areas and has many years of consultant experience to be able to present and convey information to customers.
Not only possess advanced foods processing technology from the leading manufacturers in the world, the KIS consultant exeperts also understand the needs to select and transfer technology products and solutions to be applied appropriately; as well as offer optimal construction methods to meet the customers' requirements of production technology in foods processing and environment.
The consultant experts of KIS joined with customers from the first phase to define the required details for IT system, then, offer a plan for establishing a consulting approach to develop and transfer foods processing technology in an optimal way. KIS consulting services will support customers to build feasible solutions with detailed parameters of technology products and services as well as the required finance. After that, the bidding documents are ensured to be established thouroughly and correctly. Experts of KIS always accompany with customers, exchange information with the customers project team regularly, organize seminars for solution presentation and provide customers with the required documents under the motto : Your efficiency is our success!.
With the competence and over 10 years experience in operation and training service, KIS's technology transfer consultant services gets the trust of customers in various economic sectors in country.
KIS consultants are also frequently invited to audit food processing technology and environment projects which have been developed by organizations and enterprises. Some projects have high complexity and are required to be reviewed in an objective and honest manner, thus, customers often seek to KIS as a familiar, reliable and professional organization.
Through project evaluation, KIS experts will find out the existed problems in the technology project that might be improved, which contributes to the succeed of the project.
CONTACT / SUPPORT
To get the highest satisfaction on technology transfer, food processing and environment consultant service, please contact us via email: vphn@kis.vn or via hotline: 0942.99.66.88 for details.